Desktop Filament Extruder E1.6 by ARTME 3D
*ENGLISH DESCRIPTION BELOW*
Überblick:
Der Original Desktop Filament Extruder E1.6 von ARTME 3D hat sich in großen Schritten weiterentwickelt. Es ist ein Kunststoff – Extruder in unschlagbar kleiner aber Leistungsstarker Bauform, um Filament für 3D Drucker aus Kunststoffgranulat herzustellen.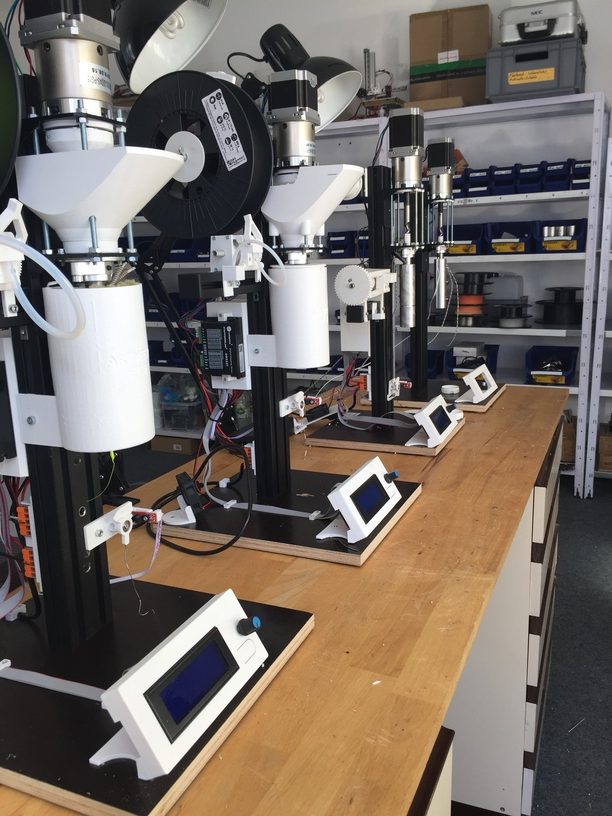 Besonderheit:
Der Extruder arbeitet mit einer Extruderschnecke mit Kompressionszone aus Edelstahl und besitzt eine Wickeleinheit, um das Filament direkt auf eine Spule aufzuwickeln. Die neue Wickeleinheit des E1.6 kann Spulen mit unterschiedlichen Größen bis hin zu 2500g-Spulen aufnehmen. Und das bei einer Standfläche von gerade einmal 35 x 35 cm. Durch das durchdachte Design lassen sich auch selbst hergestellte (geschredderte) Granulate aus 3D Druckabfall verarbeiten.
Antrieb:
Der Antrieb besteht aus einem leistungsstarken und stufenlos regelbaren Nema23 Schrittmotor mit Planetengetriebe, welcher über einen digitalen Schrittmotortreiber angesteuert wird. Die Aufwickeleinheit und Zugeinheit werden jeweils von Nema17 Schrittmotoren angetrieben.
Steuerung:
Ein Arduino mit Ramps Board und LCD Display übernimmt die Steuerung. Die Aufwicklung funktioniert automatisch. Der Filamentdurchmesser kann von 1.75 bis 2.85mm mittels Auswahl der Düsengröße und Eigengewicht des Filamentes auf den gewünschten Durchmesser kalibriert werden. Nach einstellbarer Filamentlänge schaltet der Extruder selbsttätig ab.
Materialien:
Die Standard 3D Druckmaterialien wie PLA, ABS, ASA, PETG, TPE und PP sind erdolgreich getestet. Hochtemperatur-Kunststoffe wie Nylon verarbeitet diese Version aufgrund der Extruderschnecken-Geometrie allerdings noch nicht zuverlässig.
Spannungsversorgung:
Der Extruder wird mit 12V Schutzkleinspannung betrieben und durch die hohe Effizienz benötigt er wenig Leistung, sodass man ihn z.B. mit einem günstigen und sicheren Tischnetzteil betreiben kann. (Nicht im Lieferumfang enthalten). Der klimaneutrale Betrieb über Solarzellen ist auch möglich.
Open Source:
Die komplette Dokumentation und die nötigen 3D Druck-Dateien finden Sie zum download unter www.artme-3d.de/support. Der Original Desktop Filament Extruder E1.5 von ARTME 3D ist ein Open Source Projekt, welches unter einer CC BY-SA Lizenz (https://creativecommons.org/licenses/by-sa/4.0/) genutzt wird:
Sie dürfen:
– Alle Inhalte nutzen, verändern und teilen.
Unter folgender Bedingung:
– Meinen Namen nennen: David Thönnes von ARTME 3D
– Mein Projekt verlinken: www.artme-3d.de
– Angeben was verändert wurde
– Unter der gleichen Lizenz veröffentlichen
Gesichtspunkte der Entwicklung:
Kleinstbauweise, um eine dezentrale Anwendung dort zu ermöglichen, wo Kunststoff recycelt werden kann oder Filament günstig hergestellt werden soll.
Kurze Durchlaufzeiten, um den Kunststoff so wenig wie möglich zu schädigen, um viele Recyclingprozesse zu ermöglichen.
Open Source, um jedem den Zugang zu gelungenem Recycling zu ermöglichen.
Prozess-Stabilität durch hochwertige und durchdachte Bauteile.
Komfortable Steuerung und einfache Bedienung.
Einfaches und schnelles Einstellen des Filaments-Durchmessers.
Günstig in der Anschaffung, da als Bausatz zu Kaufen.
Technische Daten:
Maße: 350mm breit, 594mm hoch, 350mm tief
Spannungsversorgung: 12V DC Schutzkleinspannung
Leistungsaufnahme: 60 bis 90 Watt (Je nach Materialsorte), 120 Watt beim Aufheizen. (Benötigtes Netzteil für Netzbetrieb: Ausgangsspannung 12VDC, Ausgangsstrom 10 A. Achtung: In Ländern mit 110/120V Netzspannung wird ein Netzteil mit 12.5A Ausgangsstrom benötigt)
Maximale Extrudertemperatur: 250°C
Maximale Drehzahl: 20 RPM
Genauigkeit des Filament-Durchmessers: +/- 0.05mm bei der Verwendung von Granulat/Pellets. +/- 0.1mm bei der Verwendung von geschreddertem 3D Druckabfall.
Maximale Extrusionsleistung ohne Filamentkalibrierung: 350 Gramm pro Stunde (0,35 kg/h)
Normale Extrusionsleitung mit Filamentkalibrierung: 150 bis 300 Gramm pro Stunde (0,15 bis 0,35 kg/h), je nach Material. (Durch das Kühlen, Kalibrieren und Aufwickeln wird die maximale Extrusionsleistung etwas kleiner).
Maximale Systemgeschwindigkeit (Filament maßhaltig produzieren und aufwickeln): 0,7m bis 1,6m pro Minute. Erfahrungsgemäß dauert es im Durchschnitt ca. 4 bis 7 Stunden um ca.1kg Filament mit 1,75mm Durchmesser zu produzieren.
Extruderschnecke: 3 Zonen Extruderschnecke aus Edelstahl mit 12mm Durchmesser.
Kompressionsverhältnis ca. 3:1. L/D ratio: 8:1.
Getestete Materialien: PLA, ABS, PETG, TPE, PP
Funktionsweise:
Das Kunststoffgranulat wird vom Extruder aufgeschmolzen und verlässt als weichen Faden die Düse mit integriertem Schmelzefilter. Der Durchmesser des Filaments wird durch das Eigengewicht des Filamentes und die Druck und Temperatur Optionen eingestellt. Ein Sensor erfasst die Höhe des weichen Filamentbogens zwischen Düse und Zugmotor und regelt die Aufwickelgeschwindigkeit. Durch die kleine Bauform geht die Durchmesser-Einstellung relativ schnell von statten. Sind die passenden Werte zur Kunststoffsorte bekannt, lässt sich der Extruder in wenigen Minuten starten. Erfahrungswerte für die Einstellung finden Sie unter www.artme-3d.de/support
Benötigtes Werkzeug und Zubehör:

3D gedruckten Bauteile (weiße Teile auf den Fotos, Dateien zum Download unter www.artme-3d.de/support)
Tisch-Netzteil 12VDC 10A (Achtung: In Ländern mit 110/120V Netzspannung muss ein Netzteil mit 12,5A Ausgangsstrom gewählt werden.)
Eine leere Filament-Spule (Durchmesser Innenloch 50 bis 60mm)
Werkzeug (Schraubendreher, etc, siehe Aufbauanleitung in der Dokumentation)
Zugang zu einem Schraubstock ist von Vorteil
Wenn der verwendete 3D Drucker für die 3D Druckteile nicht sehr genau kalibriert ist, kann es nötig sein eine Bohrmaschine mit 5,5mm und 12mm Bohrer zu haben.
Fähigkeiten und Schwierigkeitsgrad:

Der Aufbau dieses Extruders ist ein wenig aufwändiger, als Beispielsweise der Aufbau eines 3D Druckers. Neben der Verkabelung der Elektronik und dem Zusammenbau der 3D Druckteile zu funktionsfähigen Komponenten sind auch Tätigkeiten auszuführen wie:
Das Drucken von vielen Teilen (unter Umständen mehrere Tage Druckzeit. ca 1 bis 1.3 kg Materialverbrauch)
Das Nacharbeiten von 3D Druck-Teilen.
Das Ausrichten von Gewindestangen und des Extruder-Rohrs.
Das feilen von Rillen in der Einzugszone des Extruder-Rohrs mit der Schlüsselfeile. (Im Bausatz enthalten)
Arbeitsaufwand:
Je nach Ihrer Erfahrung im Aufbau solcher Bausätze müssen Sie zwischen 5 und 15 Stunden Zeit für den Aufbau einplanen.
Unterstützen Sie mich:
Die Entwicklung und die Dokumentation dieses Projekts erforderte bis jetzt hunderte Arbeitsstunden in 3 Jahren, sowie hohe Investitionen in Material und Maschinen. Wenn Sie mich in der Entwicklung und kostenlosen Veröffentlichung von Projekten dieser Art unterstützen möchten, freue ich mich über eine kleine Spende via paypal an paypal@artme.de.
Lieferumfang:
Hier sehen Sie die Teileliste des Extruders. Im Bausatz sind alle Teile enthalten, bis auf die stl Dateien und die leere FIlamentspule und das Netzteil:
Quantity
Name english
Spects
50
wood screw
2,5×12 mm
11
wood screw
3×25 mm
7
cap head screw
M3x6
25
cap head screw
M4x10 mm
2
cap head screw
M5x14
4
countersunk screw
M5x15
1
cap head screw
M5x30
1
hexagon screw
M5x70 mm
1
wing nut
M5
10
hammer nut
M4, Slot 8
17
nut
M5
1
hexagon screw
M10 x 50 mm
4
washer
M4
2
washer
M5
1
grub screw
M4x10 mm
1
hexagon screw
M5x40 mm (20mm thread)
1
wood screw
4×60 mm
2
wood screw
5×60 mm
2
wing screw
M6x35
6
Slot nut
B Typ, 8mm, M4
2
cap
30×30 mm
1
cap
60X30 mm
1
parallel key
4x4x20 mm
4
threaded rod
M5x117 mm
1
timing belt
GT2, 6mm x 500mm
2
connector for profile
90°
4
felt pads
22 x 5 mm
1
ptfe tubing-part
4x2x10mm
1
wire
0,6 x 210mm, V2A
1
ball bearing
4x12x4 C3
12
cable tie
95mm
2
mounting bracket
for Nema 23 with M6 thread
1
thrust bearing
47x30x11mm
12
ball bearing
4x13x5 mm
1
nail
4,6x130mm
2
hose clamp
40mm diameter
1
Pully
GT2, 6mm, 20 teeth, 5mm bore
2
ball bearing
10x26x8mm
1
U ball bearing
FZ0463, 4x13x4 mm
1
Extruder feed wheel
12mm, 38 teeth
1
Compression spring puller
8×0,8×22 mm
1
Compression spring snap
6×0,5×35 mm
1
Tension spring Swing arm
3×0,2×20 mm
1
ptfe tubing
6x4x630 mm
1
stepper motor
Nema23, 15:1
4
ferrule
0,5mm²
2
stepper motor
Nema17, 39mm
1
stepperdriver extruder
Leadshine DMT332T
1
extruder barrel
16x2x160 (12,05 innen)
1
extruder barrel with grooves
16x2x160 (12,05 innen)
1
extruder screw grinded
12,0h9 x 215 mm
1
Aluminium heating element
6mm drilling
1
Aluminium heating element
3+6mm drilling
1
warding file
vierkant/square, 100mm long
1
plate
280x300x15 mm
1
aluminium profile
30x60x500 mm
1
aluminium profile
30x30x160 mm
1
aluminium profile
30x30x120 mm
1
adapter disk
55x20x3 mm
1
shaft holder
SHF16 with M4 thread
2
heating cartridge
6x20mm 50W/12V, 53cm Kabel
2
ferrule
0,5mm²
1
thermistor
3×15 mm, NTC 100K
1
nozzle with M6 thread
Verschlussschraube M14x1,5 DIN 910, M6
1
3D printer nozzle PLA/PETG
M6 thread, E3D-Style, with 1.7mm bore
1
melt filter
16x100mm, Mesh 50 (0,3mm)
1
teflon tape
130mm
1
bending aid filter
stl
1
sign template
stl
2
clamp vice
stl
1
coupling bearing surface
stl
1
coupling
stl
1
bending template threaded rods
stl
1
feed zone
slt (in ABS od ASA if possible)
1
hopper part1
stl
1
mounting tool
stl
1
hopper part2
stl
1
hopper part3
stl
1
Spool holder bracket
stl
1
Spacer
stl
1
Spool holder disc
stl
1
Spool holder disc lid 1
stl
1
Motor mount
stl
1
Motor mount lid
stl
1
Belt tensioner
stl
1
Spool adapter 50mm (option)
stl
1
Spool adapter 51mm (option)
stl
1
Spool adapter 52mm(option)
stl
1
Spool adapter 53mm (option)
stl
1
Spool adapter 54mm (option)
stl
1
Spool adapter 55mm (option)
stl
1
Spool adapter 56mm (option)
stl
1
Spool adapter 57mm (option)
stl
1
Spool adapter 58mm (option)
stl
1
Spool adapter 59mm (option)
stl
1
Spool adapter 60mm (option)
stl
1
Spool holder disc lid 2
stl
1
Filament spool (Not included)
750g or 1000g (not included in the kit)
1
hook left
stl
1
hook rechts
stl
1
swing for 0.7 bis 1.0kg spools
stl
1
swing for 2.5kg spools (option)
stl
1
crossbrace 1
stl
1
crossbrace 2
stl
1
lifter
stl
4
Rails
stl
1
sledge part1
stl
1
sledge part2
stl
1
Spiral axis for 1,75mm Part1
stl
1
Spiral axis for 1,75mm Part2
stl
1
Spiral axis for 2,85mm Part1
stl
1
Spiral axis for 2,85mm Part2
stl
1
axis holder right
stl
1
snap part 1
stl
1
snap part 2
stl
1
plow
stl
1
axis holder left
stl
2
stopper
stl
1
motor mount Part 1
stl
1
motor mount Part 2
stl
1
motor mount Part 3
stl
1
lever
stl
1
disc
stl
1
filament guide
stl
1
arduino
mega 2560 R3
1
ramps Board
ramps 1.5
3
jumper
2,54mm
1
stepperdriver winder
tmc 2208
1
optical endstop with cable
reprap, 3 Pin
1
arduino case
stl
1
LCD adapter
for LCD 2004
2
LCD cable
500-600mm
2
terminal block
Wago 221-415 5pol
1
terminal block holder
stl
1
driver mount
stl
3
Connector Ramps/DMT322T
Dupont Jumperwire male-male
2
wire ramps
1,0mm² black, 150mm
2
wire ramps
1,0mm² red, 150mm
1
wire DMT322T
1,0mm² black, 260mm
1
wire DMT322T
1,0mm² red, 260mm
6
ferrule
1,0mm²
1
Arduino top
stl
1
fan
24V= or 12V=, 50x50x15mm
1
power supply (not included)
12VDC 10A (12,5A when 110V net) closed design
1
Y stepper cable
4 pin for two Nema 17
1
strain relief
stl
1
LCD cover
stl
1
LCD 2004 Display
Smart Display Controller
2
holder ribbon cable
stl
1
fan holder
stl
1
fan
12V=, 50x50x15mm
2
ferrule
0,25mm²
1
usb cable
200mm
1
sensor holder
stl
1
sensor body
stl
1
sensor arm
stl
1
sensor shutter
stl
1
bending aid
stl
1
cover body
stl
1
rock wool
135x230x40 mm
1
cover top left
stl
1
cover top right
stl
*ENGLISH DESCRIPTION*
Overview:
ARTME 3D's original Desktop Filament Extruder E1.6 has evolved in leaps and bounds. It is a plastic – extruder in unbeatable small but powerful design to produce filament for 3D printers from plastic granules.
Special feature:
The extruder works with an extruder screw with compression zone made of stainless steel and has a winding unit to wind the filament directly onto a spool. The new winding unit of the E1.6 can accommodate spools of different sizes up to 2500g spools. And all this with a footprint of just 35 x 35 cm. The thoughtful design also allows it to process homemade (shredded) granules from 3D printing waste.
Drive:
The drive consists of a powerful and infinitely variable Nema23 stepper motor with planetary gear, which is controlled via a digital stepper motor driver. The rewind unit and pull unit are each driven by Nema17 stepper motors.
Control:
An Arduino with ramps board and LCD display handles the control. The rewinding works automatically. The filament diameter can be calibrated from 1.75 to 2.85mm by selecting the nozzle size and the filament's own weight to the desired diameter. After the filament length has been set, the extruder switches off automatically.
Materials:
Standard 3D printing materials such as PLA, ABS, ASA, PETG, TPE and PP have been tested with success. However, this version does not yet reliably process high-temperature plastics such as nylon due to the extruder screw geometry.
Power supply:
The extruder is powered by 12V safety extra-low voltage and due to its high efficiency it requires little power, so you can run it e.g. with a cheap and safe table power supply. (Not included in the scope of delivery). Carbon neutral operation via solar cells is also possible.
Open Source:
The complete documentation and the necessary 3D printing files can be found for download at www.artme-3d.de/support. The Original Desktop Filament Extruder E1.5 by ARTME 3D is an open source project used under a CC BY-SA license (https://creativecommons.org/licenses/by-sa/4.0/):
You may:
– Use, modify and share any content.
Under the following condition:
– Mention my name: David Thönnes of ARTME 3D
– Link my project: www.artme-3d.de
– State what has been changed
– Publish under the same license
Development aspects:
Miniature design to enable decentralized application where plastic can be recycled or filament is to be produced at low cost.
Short cycle times to minimize damage to the plastic to enable many recycling processes.
Open source to allow everyone access to successful recycling.
Process stability through high-quality and well-designed components.
Comfortable control and easy operation.
Easy and fast adjustment of filament diameter.
Inexpensive to buy as a kit.
Technical data:
Dimensions: 350mm wide, 594mm high, 350mm deep.
Power supply: 12V DC safety extra-low voltage
Power consumption: 60 to 90 watts (depending on material type), 120 watts when heating up. (Required power supply for mains operation: output voltage 12VDC, output current 10A. Attention: In countries with 110/120V mains voltage, a power supply with 12.5A output current is required)
Maximum extruder temperature: 250°C
Maximum speed: 20 RPM
Filament diameter accuracy: +/- 0.05mm when using granules/pellets. +/- 0.1mm when using shredded 3D printing waste.
Maximum extrusion rate without filament calibration: 350 grams per hour (0.35 kg/h).
Normal extrusion line with filament calibration: 150 to 300 grams per hour (0.15 to 0.35 kg/h), depending on the material. (Cooling, calibrating and rewinding will slightly reduce the maximum extrusion rate).
Maximum system speed (producing filament true to size and rewinding): 0.7m to 1.6m per minute. Experience shows that it takes on average about 4 to 7 hours to produce about 1kg of filament with 1.75mm diameter.
Extruder screw: 3 zone stainless steel extruder screw with 12mm diameter.
Compression ratio approx. 3:1. L/D ratio: 8:1.
Tested materials: PLA, ABS, PETG, TPE, PP.
Mode of operation:
The plastic granulate is melted by the extruder and leaves the nozzle with integrated melt filter as a soft filament. The diameter of the filament is set by the filament's own weight and the pressure and temperature options. A sensor detects the height of the soft filament sheet between the nozzle and the draw motor and controls the take-up speed. Due to the small design, diameter adjustment is relatively quick. If the appropriate values for the plastic grade are known, the extruder can be started in a few minutes. Experience values for the setting can be found at www.artme-3d.de/support.
Required tools and accessories:
If you purchase a kit from ARTME 3D, you will need the following material, which is not included, to build and operate the extruder:
3D printed parts (white parts on the photos, files for download at www.artme-3d.de/support)
Table power supply 12VDC 10A (Attention: In countries with 110/120V mains voltage you have to choose a power supply with 12,5A output current).
An empty filament spool (diameter inner hole 50 to 60mm)
Warding file, square, approx.100mm long
Tools (screwdriver and more, see assembly instructions in the documentation)
Access to a vice is an advantage
If the 3D printer used for the 3D printed parts is not calibrated very accurately, it may be necessary to have a drill with 5.5mm and 12mm drill bits.
Skills and Difficulty Level:
Building this extruder is a little more involved than building a 3D printer, for example. In addition to wiring the electronics and assembling the 3D printed parts into functional components, there are also activities to perform such as:
Printing of many parts (possibly several days of printing. approx. 1 to 1.3 kg material consumption)
Reworking 3D printing parts.
Aligning threaded rods and the extruder tube.
Filing grooves in the feed zone of the extruder tube with the key file.
Labor requirements:
Depending on your experience in assembling such kits, you will need to allow between 5 and 15 hours of time for assembly.
Support me:
The development and documentation of this project so far required hundreds of hours of work in 3 years, as well as high investments in materials and machinery. If you would like to support me in the development and free publication of projects of this kind, I will be happy about a small donation via paypal to paypal@artme.de.
Scope of delivery:
See the table above for the extruder parts list. All parts are included in the kit except for the stl files and the empty FIlament coil and power supply.